Pagosa Springs Restaurants: Where to Eat Local Anytime
Pagosa Springs may be a small town in Colorado, but don't let its size suggest there's not a noteworthy food scene. Plus, there's enough variety to please everyone in the group. That's right: This town has a little of everything — from burgers and pizza to Thai and tacos. To find the best places, check out some popular Pagosa Springs restaurants for local flavor.
Pagosa Springs Restaurants: Dine Like a Local
Pagosa Brewing and Grill
For local flavor and casual vibes, enjoy lunch or dinner at Pagosa Brewing and Grill. This spot features high-rated dishes paired with award-winning brews.
Visitors will find a selection of handhelds and artisan creations. Start with crab cakes, warm pretzels or wings. Then try the pizza, salads, burgers, tacos and sandwiches. Guests also rave about the fish and chips, mac and cheese, and bacon-wrapped filet. While eating, sample local beer. Options range from taster trays, seasonal brews, and gluten-free ales and ciders.
Thai Pagosa
Located in a small strip mall sits Thai Pagosa. This award-winning restaurant ranks among the best Asian noodle restaurants in Colorado, and offers lunch and dinner every day but Sunday.
The menu has authentic Thai food made by locals. Fried rice, pho, soups, stir fry and curry are all popular options. Entrees feature seafood, roasted duck and vegetarian-friendly options. To up the heat, the cook will increase spice based on customer request.
The Peak Deli
The Peak Deli sits in downtown and opens for lunch and dinner. While the main draw is the sandwiches, the deli also serves as a go-to spot for breakfast.
Start the day with a killer burrito, bagel sandwich, French toast or platter. For lunch, the restaurant has both hot and cold options. Favorites include Pagosa Peak with turkey and Quartz Ridge with roast beef. The Peak Deli also serves phillies, cubanos and veggie only sandwiches. All menu items feature Boar's Head meats and cheeses, homemade spreads, and fresh baked bread.
Rosie's Pizzeria
Craving pizza? Head to Rosie's Pizzeria, a local favorite. Upon entering, visitors will note the fun Colorado-inspired décor and relaxed vibes.
Get ready for New York-style slices and big flavors. Guests may order by the slice or whole pizzas measuring 18 inches. Then choose from different sauces and dozens of toppings such as pepperoni, sausage, meatballs, peppers, onions, mushrooms and more. In addition to pizza, Rosie's serves fresh salads, toasted subs, paninis and calzones.
Alley House Grille
Alley House Grille offers a more upscale environment. Here guests enjoy dinner in a casual, yet elegant setting located in a restored 1912 cottage.
Start with crispy calamari, fried cauliflower or a salad. Entrees include homemade pizza, chicken, seafood, burgers, steaks and veggie pasta. Visitors will also find a sizable wine list perfect for special occasions and date-nights. Alley House also offers catering and hosts special events with outdoor dining.
Pagosa Baking Company
For more breakfast and lunch goodies, stop by Pagosa Baking Company. Ranked among the best Pagosa Springs restaurants for breakfast, this spot sells fresh-baked treats. Many ingredients are locally sourced and organic as well.
Bread options include ciabatta rolls, rye, local loaf and whole grain. Then select from savory dishes such as chicken pot pie, tamales, quiche, croissants and lasagna. Those with a sweet tooth can order cookies, muffins, cupcakes and tarts.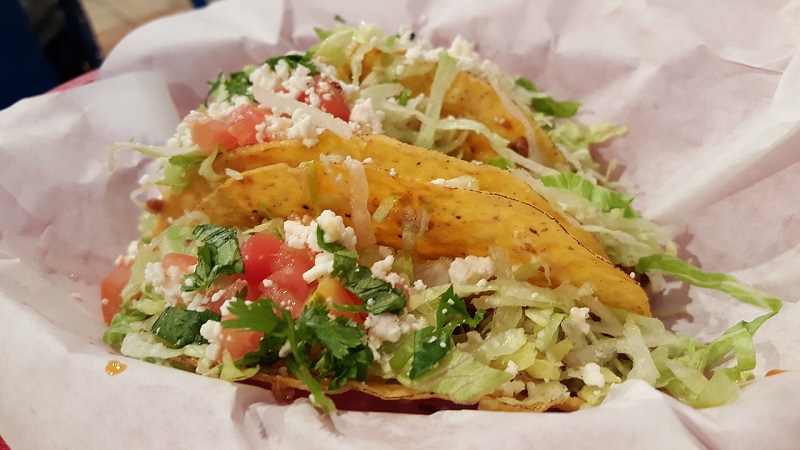 Kip's Grill and Cantina
For more casual vibes, Kip's Grill and Cantina is all about pleasin' the people. This grill serves lunch and dinner, and is locally owned and operated.
Most come here for good food and to relax with friends. Start with fresh jalapeno poppers or chips and salsa. Then choose from burgers, sandwiches and baja-style street tacos – the main star. Taco options include spicy beef, vegetarian, chicken, sirloin and shrimp. Kip's also welcomes guests to build their own hot dogs, burgers and bratwursts.
Riff Raff Brewing Company
Those traveling without children can't miss Riff Raff Brewing Company, ranked among the top Pagosa Springs restaurants for brews and food. Plus, Riff Raff is Colorado's first brewery powered by spring-fed geothermal heating.
This spot has two locations in Pagosa Springs: one downtown, the other on the Rio. Both have their own menus and local flair. Popular items include nachos, salads and burgers. Those into burgers will find plain Jane, bacon blue and the dude with beer-caramelized onions. Don't forget to pair the meal with Riff Raff's flagship brews.
After learning about the best Pagosa Springs restaurants, explore the outdoors! Read about Pagosa's waterfalls.
Want to plan a trip? Browse some Pagosa Springs vacation homes.