Oak Island Attractions to Visit for a Fun-filled Family Vacation
Oak Island – located in southern North Carolina – offers a family-friendly vacation destination. The area is rich in history and beauty, and ranks among the best beaches in North Carolina. If visiting for the first time or to plan something different, check out the top Oak Island attractions. There's always something to do here.
Oak Island Attractions: Places to Go and Fun Activities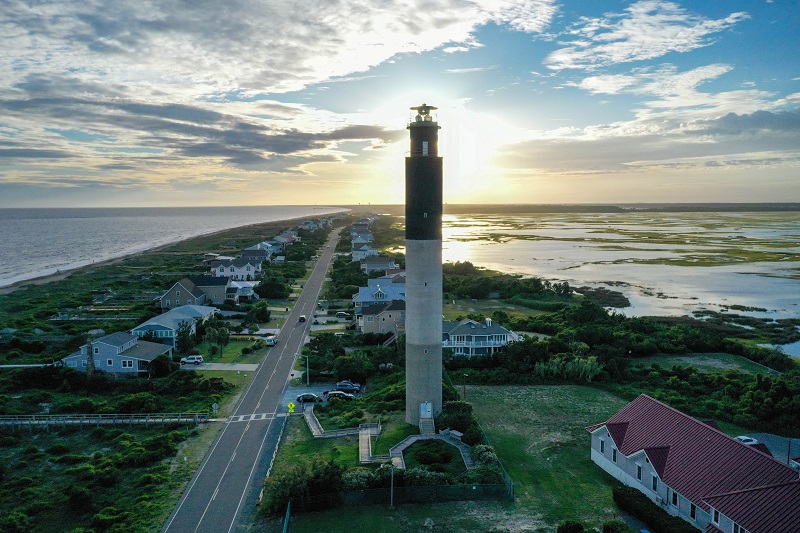 Oak Island Lighthouse
Built in 1958, Oak Island Lighthouse is one of the newest lighthouses in North Carolina. It measures 153 feet and has a series of ship ladders instead of a spiral staircase. It also features an LED rotating fixture, which was the first in the U.S.
When available, visitors may tour the lighthouse. A docent guides guests on the second level and top, and reservations are required. Times depend on the season, so plan well in advance. Those who prefer to stay outside are welcome to take photos and admire the scenery.
Caswell Beach
While Caswell Beach is one of the least populated beaches in the area, it has the lighthouse and plenty of space to play. Visitors enjoy sunbathing, strolling down the beach and collecting shells. Other beaches near Oak Island include Long Beach and Oak Island public beach access.
Fishing Piers
The area has two piers: Oak Island Fishing Pier and Ocean Crest Fishing Pier. They both offer top spots for fishing and suit families who fish together. Those not fishing enjoy watching marine life and taking photos of the area. After exploring the piers, stroll along the coast and dine at nearby restaurants.
Fort Caswell
Fort Caswell once served as a U.S. military fortress during the Civil War. Today the site is owned and managed by Baptist State Convention of North Carolina and doubles as a venue and space for outdoor recreation.
Popular activities to try at Fort Caswell include swimming, lounging on the beach, kayaking, boating and walking. In addition, visitors may choose from programs designed for children and youth, retirees, and spiritual retreats.
Oak Island Nature Center
Ranked among the top Oak Island attractions for outdoor recreation, this nature center has fun ways for visitors to connect to nature and learn about the environment. Stroll the walking trail, see fossils, learn about animals and watch butterflies. Then plan an outdoor adventure such as fishing, a picnic with loved ones or nature photography.
Museum of Coastal Carolina
Located in nearby Ocean Isle Beach, all ages enjoy Museum of Coastal Carolina. This attraction showcases maritime and Coastal Carolina's history through exhibits and galleries. Visitors will learn about influential people, marine life, area waterways, reefs and shells, ships, and other relevant topics. Kids love the touch tank and theater as well.
Ingram Planetarium
For more science and fun, head to Ingram Planetarium in Sunset Beach. Visitors will explore space, regional history in the industry, and constellations. The Science Hall helps children learn through interactive exhibits such as hurricanes, robotics and nano tech. After the exhibits, catch a laser show or watch short films, which showcase many topics. Some favorites include Accidental Astronauts, Dynamic Earth and Seven Wonders. Learn about the museum and planetarium.
Oak Island Farmers Market
From May through September shop for goodies at Oak Island Farmers Market. The market features regional farmers and artisans selling everything from fresh produce to homemade jams and treats. However, there is more than food. Guests will also find jewelry, rugs, furniture, home decor, plants and crafts. Don't forget to take home souvenirs.
Brunswick County Botanical Garden
For more natural beauty, drive 15 minutes north to Brunswick County Botanical Garden. The garden ranks among the top Oak Island attractions for its size and garden variety.
Nature lovers have access to 13 gardens within the area. Visitors are welcome to take self-guided tours. Example gardens include rose, live oak, azalea, pollinator, rain and sunny native. Many feature native plants and flowers from North Carolina and the southern region. Some guests also enjoy meditating at the reflection garden, which houses a waterfall and Japanese maples.
Need more ideas? Read more about Oak Island and find vacation homes. Then learn more about vacationing in North Carolina.
Main photo: Rain0975 via Flickr