North Shore Ice Cream Shops: 6 Spots for Sweet Treats
It's cold, creamy and sweet. What's not to love about ice cream? In fact, New Englanders have been downing the frozen confection since early colonists carried recipes with them from the olde country. And those folks just happen to be the ancestors of today's North Shore in Massachusetts. So join the tradition and check out the top North Shore ice cream shops.
Top North Shore Ice Cream Shops for Sweet Treats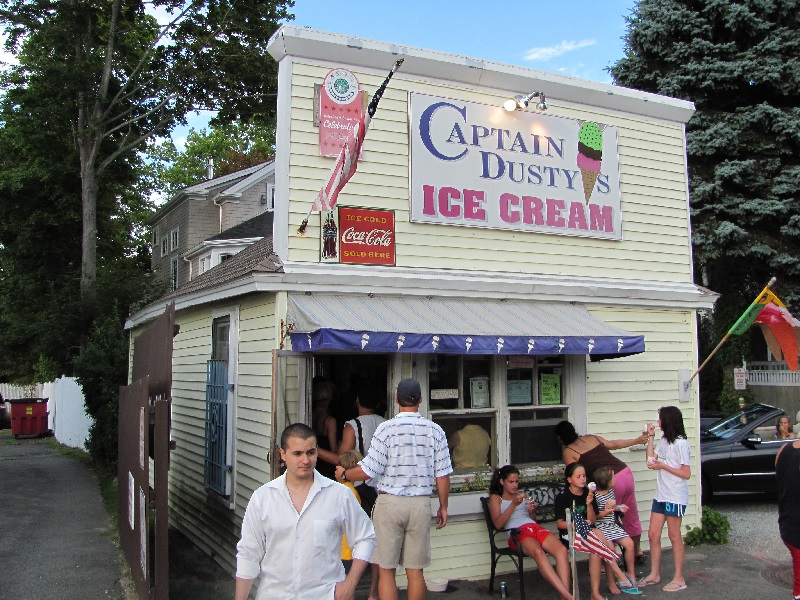 Captain Dusty's Ice Cream (Manchester-by-the-Sea)
This hole-in-the-wall gem with friendly service, located in downtown Manchester-by-the-Sea, lies across the street from a park and harbor, just down the way from Singing Beach.
Choose from an array of awesome ice cream presentations — cones, sundaes, frappes, shakes, soft serve — and watch boats come and go from the scenic harbor. Captain Dusty's long list of flavor choices, large portions, and savory servings make this an ice cream lover's dream destination.
White Farms Ice Cream (Ipswich)
For more than 60 years, White Farms Ice Cream has been serving frozen confections and 50-plus flavors, including such exotic twists as chocolate raspberry truffle, cocojamocha and reverse chocolate chip.
They also added a miniature golf course, and to quote White Farms, it "isn't your typical themes or clown-faced course." The layout offers a competitive and challenging edge that includes fountains and a stream, along with water traps, sand traps and even a rough. Better perfect that one-handed putt, so the ice cream won't melt in the other hand.
Maria's Sweet Somethings (Salem)
Among the best North Shore ice cream shops, this favorite also displays chocolate candy and fudge in the front of the store, accompanying a gift shop with seasonal decor and souvenirs.
The ice cream, made just 7 miles up the road from Richardson's of Middleton, resides in the store's back. In addition, guests can expect delicious and generous portions. Stop by Maria's Sweet Somethings, sit outside in Derby Square and soak it all in.
Treadwell's Ice Cream (Peabody)
Treadwell's has made its home in Peabody since the end of WWII. In 1946, returning veteran Russ Treadwell set up an ice cream stand that would become an historic part of the North Shore ice cream landscape. In 2000, the stand was bought by the Gould family, who operates the business year-round, serving Treadwell's World Famous ice cream.
Sample a diverse menu of frappes, floats, malts, yogurts, cones, smoothies, sherbets and sundaes. For the ambitious, there's Treadwell's Kitchen Sink: 12 scoops of ice cream adorned with three toppings, whipped cream, nuts and jimmies.
Hodgie's Ice Cream (Amesbury, Salisbury, Newburyport)
With more than 40 flavors to choose from, Hodgie's wants every visitor to know their ice cream fills the bill — from milk chocolate almond to pistachio walnut to Kahlua chip flavors with ginger added. Sherbets, sorbets, frozen yogurts and sugar-free — each with its own group of special flavors — create an ice cream intoxication.
Along with homemade ice cream, Hodgie's also rustles up made-to-order grill items and provides a picnic area under pines to enjoy it all. Less than 5 miles east in Salisbury, there's Hodgie's Too Ice Cream and another in Newburyport.
Down River Ice Cream (Essex, Rowley)
This stand — the company's second location complementing its flagship shop in Essex — prides itself on providing ice cream, frozen yogurt and sorbets made with natural ingredients. All Down River's products, including more than 30 flavors and regional specialties are made at its Essex location.
For local flavor, try Green Head, Mill River Mix and Snail Trail. Large helpings range from one scoop to three scoops, and are served in paper cups or imported Frima Danish waffle cones.
After visiting these North Shore ice cream shops, head to the beach! Read about the North Shore top beaches.
Looking for a place to stay? Check out these North Shore vacation rentals.