Keystone Couples Activities: 7 Ways to Make Memories Together
Whether it's for a weekend getaway or month-long escape, Keystone, Colorado, offers a place for couples to play and relax. With an award-winning ski resort and endless mountain views, the area makes it easy to customize romantic retreats. Is it time to escape the daily grind? Keep reading for the best Keystone couples activities and plan a trip with someone special.
Keystone Couples Activities for Active and Laid-back Travelers
Admire Colorado Scenery
To start making memories, take a scenic ride to the top of Dercum Mountain. Couples travel as high as 11,640 feet, and see Lake Dillon, the Continental Divide and Ten Mile Range. Once at the top, have lunch together. Couples may select two restaurant options serving traditional American fare.
Sail Dillon Reservoir
Dillon Reservoir – one of the most popular spots for recreation in Keystone – has two marinas: Dillon Marina and Frisco Bay Marina.
Dillon Marina ranks among the highest deep-water marinas in the world. Visitors rent pontoon boats or navigate a 22-foot sailboat, perfect for couples. At Frisco Bay Marina, make reservations for a guided boat tour or rent sailboats from WindRider of the Rockies. Additionally, both marinas offer sailing lessons, paddleboats and kayaks.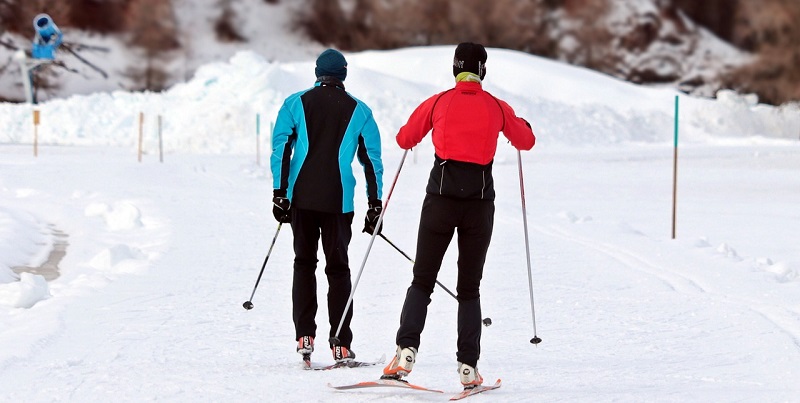 Ski Keystone's Slopes
While Keystone delights mountain lovers year-round, the area ranks among the best ski resorts in Colorado. Keystone Ski Resort has even earned accolades for the most family-friendly ski resort.
To ski Keystone, buy lift tickets or Epic passes. Then explore 20 lifts, 128 trails and more than 3,100 acres of skiable terrain. Newcomers take lessons together at Keystone Ski and Ride School. Those who have experience can race down the mountain or take guided ski tours.
Other winter activities in Keystone include snow tubing, snow biking and riding snowmobiles. Keystone offers a snowy playground for active couples to spend time together.
Bike or Hike Loveland Pass
Avid cyclists and hikers can't miss Loveland Pass, a high mountain pass that reaches nearly 12,000 feet in elevation. The route measures 17.5 mile round-trip with an average grade of 5.9 percent if coming from Keystone.
Many claim to feel 'on top of the world' when they visit Loveland Pass. Take photos of the Continental Divide, admire scenery and pose together with mountain backdrops. Visitors should note Loveland Pass can be dangerous in wintertime, so plan ahead and ensure accessibility. Need more trails? Check out the top Keystone hiking trails.
Sleigh Ride and Dinner
Looking for something more chill? Ranked among the top Keystone couples activities are area sleigh rides. During wintertime, hop aboard a horse-drawn sleigh and travel through Soda Creek Valley. While riding, couples enjoy hot cider while listening to stories relating to Keystone and Colorado history.
To make a date of it, reserve a sleigh ride with dinner. Guides offer sleigh ride dinners daily except on Sundays and Wednesdays. Reservations are required, and the full experience lasts two to four hours.
See a Show
In nearby Dillon, rock out at concerts held at Dillon Amphitheater. This venue draws talent and music lovers who enjoy outdoor concerts in a friendly setting. The venue has floor, orchestra and lawn seating — there's not a bad seat in the house. Additionally, Dillon Amphitheater features scenic lake and mountain views around the main stage.
Musicians and performers from all genres play Dillon Amphitheater. From full instrumental bands to reggae, soul and rock, there's plenty to see. Shows range in price, but many are free and open to everyone. Past performers have included Colorado Symphony, The B-52s, Clint Black and Hazel Miller.
Relax and Unwind
Whether trying to unwind after playing outside or simply to recharge, relaxation is a top Keystone couples activities. Visitors have a few ways to let stress melt away and rejuvenate the senses.
For example, Keystone Spa and Salon offers an expansive list of services, including facials, massages, scrubs, wraps and classes. Appointments are available as late as 9 p.m., so everyone has a chance to recharge. Massage options include gentle and deep tissue, high country stone, shiatsu, and customized options.
Couples short on time or interested in free activities should book a Keystone vacation rental with a hot tub. Many area homes have hot tubs and fireplaces, with indoor saunas and pools within a short walk.
In addition, guests enjoy more privacy, space and places to relax versus traditional hotels. Just don't forget to sip hot cocoa, coffee, or wine from patios that overlook mountains and lakes. Keystone has several rentals that feature scenic views couples can't miss.