Escape to the Natural Beauty of Sanibel Island
The pristine natural beauty of Sanibel Island is mesmerizing. You can become one with nature as you paddle along the same sun-dappled waterways once traveled by Southwest Florida's original habitants, the Calusa Indians. The 190-mile Great Calusa Blueway meanders through unspoiled wilderness dotted with sheltered bays and sugary white-sand beaches untouched by man. As you paddle alongside lazily swimming manatees you are transported back to Florida's wilderness past.
Explore the natural beauty of the island's tropical vegetation and abundant bird and wildlife populations as you hike along the Calusa Heritage Trail. At J.N. "Ding" Darling National Wildlife Refuge you can experience Sanibel Island as the Calusa did. The Six-Mile Cypress Slough boardwalk trail takes you deep into the largest undeveloped mangrove ecosystem in the U.S. where blue herons, anhingas and alligators thrive. A way station along the great flyways, more than 300 migratory birds stop at Sanibel Island in the spring and fall migrations.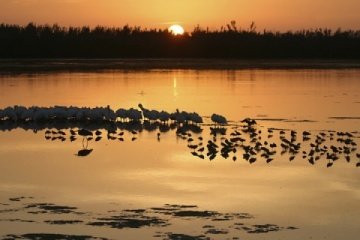 Its unspoiled wilderness has made Sanibel Island an eco-tourism destination, but there are many other things to do on this beautiful island off a short drive from Fort Myers. Art galleries showcase the work of local artists on Matlacha and Pine Island. The Boca Grande and Sanibel Lighthouse offers magnificent views and an interesting historical perspective on island life. The winter estates of Henry Ford and Thomas Edison, an early environmentalist, provide a fascinating look at the lives of two of America's most famous scientific pioneers.
Beautiful Sanibel and Captiva Island vacation rentals allow you to experience Southwest Florida's incredible natural beauty. Stock your kitchen with fresh, local produce at Sanibel's farmers market. Feast on shrimp purchased right off the boat on the Fort Meyers' docks. Book your Sanibel or Captiva Island vacation rentals today and experience a vacation like no other.
Sign up for our Vacation Deals newsletter